GEORGIA WEBBER DRAWING HEALTH WORKSHOP
Artist and graphic novelist Georgia Webber will do a virtual zoom workshop, Drawing Health, on Saturday, August 29th from 10 a.m. to 11:30 a.m.
Please use this link to register https://us02web.zoom.us/meeting/register/tZUpdOutrjsrE9HcoQ7racbujlTXdXGgUIZD
Creativity can bring us health, and health can bring us sparks of creativity. In this workshop with comics artist Georgia Webber, drawing exercises and health practices come together into an integrated experience. Join us to practice body awareness, drawing inner landscapes, naming and expressing emotions, and listening to your insides. All skill levels welcome!
Georgia Webber is a comics artist, writer, and editor living in southern Ontario. She is entirely occupied by the intersection of health and art, making music, comics, and facilitating health workshops from this point of fascination.
Georgia is best known for her debut graphic memoir, Dumb: Living Without a Voice (Fantagraphics 2018) the chronicle of her severe vocal injury and sustained vocal condition which causes her pain from using her voice. This difficult experience lead her to work as a Cranial Sacral Therapist, a meditation facilitator, and as an improvising musician, blending elements of healthcare, body awareness and creative expression within constraints. She has extended her love of the voice into the community with a project called MAW Vocal Arts. MAW hosts a vocal arts showcase event every few months in Toronto, Ontario, her home, as well as a regular online practice sessions called Breathing Music where people can explore breath through deep listening, movement, meditation and sounding practices.
Georgia's latest book is a collaboration with Vivian Chong, Dancing After TEN (Fantagraphics 2020). This book chronicles what happened to Vivian when a rare disease caused her to lose her eyesight and embark on a different creative path.
Event date:
Saturday, August 29, 2020 -

10:00am

to

11:30pm

$22.99
ISBN: 9781683961161
Availability: Usually Ships in 1-5 Days
Published: Fantagraphics - August 7th, 2018
---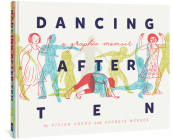 $24.99
ISBN: 9781683963165
Availability: Usually Ships in 1-5 Days
Published: Fantagraphics - June 2nd, 2020
---